The following illustrates the concept in Aibase: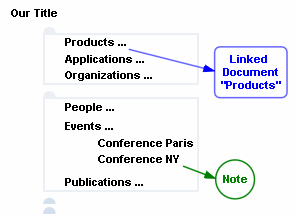 Items (an object type in Aibase) are all we need for breaking down in record time.
At first we create an item with the text "Our Title" and press F2. This single key-press causes 3 things, automatically:  A new document is created, with the same title, and the new document is now in view. We use the document-title as head of our document tree: We add a few placeholders below the title, as first tree level. (We use the V key for a quick duplication of placeholders).
Why do we add placeholders in the first level? - This is not required, but it makes us more flexible: We can use each placeholder as a list, by adding items. We can change the order of lists and can exchange items between lists. And a group of short lists is easier for the human brain than one long list.
The incoming document often contains headings, sub-headings and details close to each other. This is not optimal; better is an overview first, then the overview of a smaller section, and so on, until we reach the specific details.
We transfer text from the source document into Aibase, by copy-and-paste, and we append items to our placeholders, sub-items to items, and so on. We condense the information, reformulate text and delete words. If not possible, then we think up a single text line, but place the long text in the note. Or more extendable: We press F2 and put the text in the linked document, where we can start the next document tree. We can also delete the tree in a single step, then press R to go back to the recent document. Aibase is optimized to the extreme, we don't need any dialogs for creating or deleting documents. Copying an item requires only C (not Ctrl+C), and so on...
The interactive work itself results in understanding and own creativity.